About Us
Unions-America.com is America's Union Internet Service Provider, offering Union Internet services to Labor and Political organizations of all levels.
Members of our staff have spent the last 13 years providing a variety of graphic communications to every level of Political and Union office in the country. They have served the needs of US Presidents, US Senators, US Congressmen (and Women!), Governors, Secretaries of State, State Treasurers, Labor Commissioners, State Representatives, the AFL-CIO, the Teamsters, the Democratic Party, and countless other Union and Political concerns.

With the ever increasing advent of electronic communications (the Internet), Unions-America.com has become America's first Union Internet Service Provider of its kind. We have assembled an awesome team of high caliber Union Graphic Artists, Web site Developers, and Technical Specialists to build a labor and political network that interweaves a pro-Union and pro-Democratic America.

Solidarity is our strength!!
We're Union!

Unions-America.com employees are members of the Graphic Communications International Union. Presented here is the front page of the contract between Unions-America.com and the GCIU.
Sign-up Today!
If you would like more information or have questions about our Union status, please contact us and we will answer all of your questions.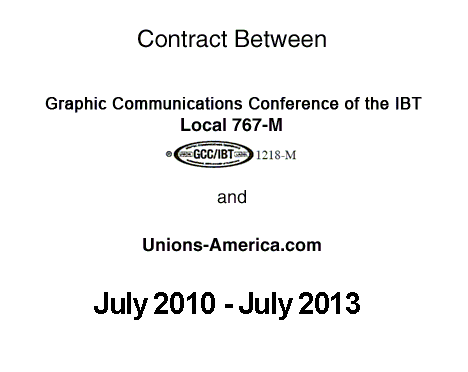 Page Last Updated: May 02, 2011 (23:09:00)