Union Web Hosting Service
We offer web hosting for all Union organizations or anyone who wants their website serviced by a made in the USA Union labor company. We can host any type of website from WordPress based sites to custom developed data driven sites. Our web hosting packages give you the tools you need for a strong presence on the Internet. And we are a 100% union shop so you can be confident you are supporting union jobs. Check out the information below and contact us with your questions. We look forward to working with you!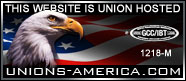 BASIC

Disk Space: 5GB
Pop3/IMAP Email Accounts: 10
MySQL Databases: 0

$19.95 / Month *
(non-UnionActive)
(non-WordPress)


STANDARD

Disk Space: 10GB
Pop3/IMAP Email Accounts: 20
MySQL Databases: 1

$29.95 / Month *
(non-UnionActive)



ADVANCED

Disk Space: 30GB
Pop3/IMAP Email Accounts: 30
MySQL Databases: 5

$39.95 / Month *
(non-UnionActive)

* Advanced package includes staging site
* No bandwidth or transfer limits for official union organizations
* One-time $50 setup fee for all new hosting packages.
All hosting packages include:
| | |
| --- | --- |
| | Unlimited FTP access |
| | POP3/IMAP Email Accounts w/ Complete Virus Filtering & Spam Blocking |
| | Web Based Email Access |
| | PHP, or ASP/.NET support |
| | Award Winning Technical Support via Phone, Email, and Live Chat |
| | Union Hosted Logo |
Security
Our data-center is located in a highly secure facility with redundant infrastructure. You can be confident your data and content are safe and secure. Security highlights of our data-center include palm scanner checks, multiple electronic card access points, locked cages, 24/7 surveillance, and on-site personnel. Safety features include digital monitoring, advanced cooling and fire suppression, redundant battery backup, power generators, and earthquake resistant technology. Our network uses state of the art firewall systems with real time intrusion prevention and security services. Our system undergoes regular PCI scanning for compliance as well.
Backup
We maintain regular daily, weekly, and monthly backup schedules for all data and content files and archive the data for up to a full year.
Support
We pride ourselves on providing prompt, personal, and professional support. We want to help make your site a successful tool for your organization. Our experts can assist with anything you want to utilize the site for. We have multiple support methods available that allow you to get help quickly and easily via phone, email, and live chat.
Getting Started
Sign up now and show the world your union support with a union hosted or union made web site. Contact us at 1-888-248-5557 to sign up for our web hosting, or e-mail us at info@unions-america.com and we will answer all of your questions.
If your web site requires additional support for anything just let us know. We can accommodate almost any request. If you have a large project that requires more than our hosting packages will allow, contact us for a free quote.