Schedule Broadcast Messages
You can now schedule Email, Text, and Short Code Text messages for delivery at a later date and time.
The broadcast messaging forms have a new Schedule Message Delivery section with a drop down menu. To send the message right away leave the drop down selected to "Send Message Now". To send the message at a later date/time select the "Schedule Message For Sending Later" option from the drop down. This will display the date and time scheduling fields:

Click the date field to select or enter a valid date. Select the time drop down to select a time of the day for the message to be sent. Then finish the broadcast form as usual.
Once you have saved the scheduled message you can view the message in the admin area > messaging tab broadcast history list. Scheduled messages that have not been sent yet will show a "Scheduled For Delivery" date/time. Scheduled messages that have already been sent will show a "Delivery Date" date/time: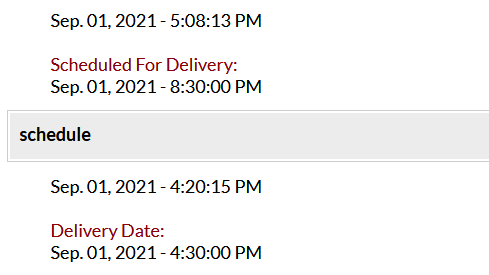 If you want to cancel a scheduled message go to the admin area > messaging tab and delete the message from the recent broadcast history list before the scheduled delivery date/time have passed. If the scheduled message is deleted before the set delivery date/time the message will not be processed or sent.
Note that the scheduled delivery date/time are the exact time the message will be processed for delivery. Users may receive the message at any time after that based on delivery method and other factors.

Other Recent System Updates
When you use the article notification options the message will now be saved as a broadcast message in the message history list.
The short code messaging feature now allows you to send broadcast text messages to a spreadsheet of cell phone numbers. The spreadsheet file must be either an .xls or .xlsx Excel file. The Excel file must contain 1 column with a title of Cellphone. Each cell phone should be on a separate line in the Cellphone column.
The Data Manager is a powerful database creator and online form builder with a ton of great features. Use the Data Manager to create and manage databases of any kind like important contact databases, phone call records, contractor and employer databases, staff lists, or anything else you can think of. Download PDF's of submitted forms. Manage records from a central area.
A new option has been added to the user signup process for email verification. Users who enter a valid email address into the user signup form can be required to verify their email with a pin sent to them. They enter the pin into the verification window and then complete the registration preview as normal.
There is a new button available above all page, article, and custom module editors labeled "Insert Accordion". This button allows you to insert an accordion box directly into any page, article, or module. An accordion is a clickable box that revels additional hidden content when clicked.
Our new online store is now available to everyone! The Unionly Online Store system allows you to easily build and manage your online store, hassle free. The new store system has been built from the ground up with tons of features including: Brand and customize your online store Customize, brand, and tailor your storefront specifically for your organization.
There is a new button available above all page, article, and custom module editors labeled "Embed PDF". This button allows you to insert and display a PDF's full contents directly into any page, article, or module. The PDF embed has many options for viewing pages, zooming content, printing, downloading, and other functions.
We want to help your organization succeed! Contact us with any questions. If your site does not have an advanced package contact us to upgrade and start using the newest features right away.